June 5, 2018

0 Comments

By George
Instagram vs. Facebook: Which One is Best for Your Business?
The use of social media has been undeniably influential for almost every aspect of life, including business. With Facebook users reaching more than 2.2 billion users and Instagram users reaching more than 800 million users, many business owners find it as an opportunity to increase their brand awareness. If you are a business owner, you might be familiar with how business works in the constantly changing world. With social media, you can reach to a wider audience, making it possible to drive more traffic to your website (if you provide good social media content, that is). However, apparently, it is not only us against our competitors, but it is also the competition between social media platforms; which one is meant for business and which one should only stick to social. There are many selections of social media platforms, but these two huge social media platforms are mostly used and popular that you know already; Instagram and Facebook.
There are many things people do on Instagram and Facebook, starting from writing status updates, uploading photos or stories, sharing knowledge or information, even to creating events. While it is, of course, perfectly normal for social use, would it be perfect for business use? In this article, we are going to share with you the comparison between Instagram and Facebook in terms of business use. Keep reading to find out!
First of all, let's compare them based on their provision.
Online visibility
In this part, we can say that Facebook has more potential for online visibility than Instagram does. Facebook has wider search tools when it comes to exploring things and is highly possible to reach a wider audience, since clearly, their active monthly users reach to 2.2 billion people. Also, since Facebook provides complete and thorough search filters, it makes things easier to look for and can be based on more specific criteria. Instagram, on the other hand, has limited selection when it comes to search tools and settings. The total number of users alone is more than 800 million people.
Engagement and interaction
For this part, we can't deny that when it comes to engagement or interaction, Instagram wins hands down. A business brand can get a hundred thousand likes on Instagram, but only get a thousand likes on Facebook. Let's take an example from one of the world's famous brands and see how their social media interaction and engagement works below: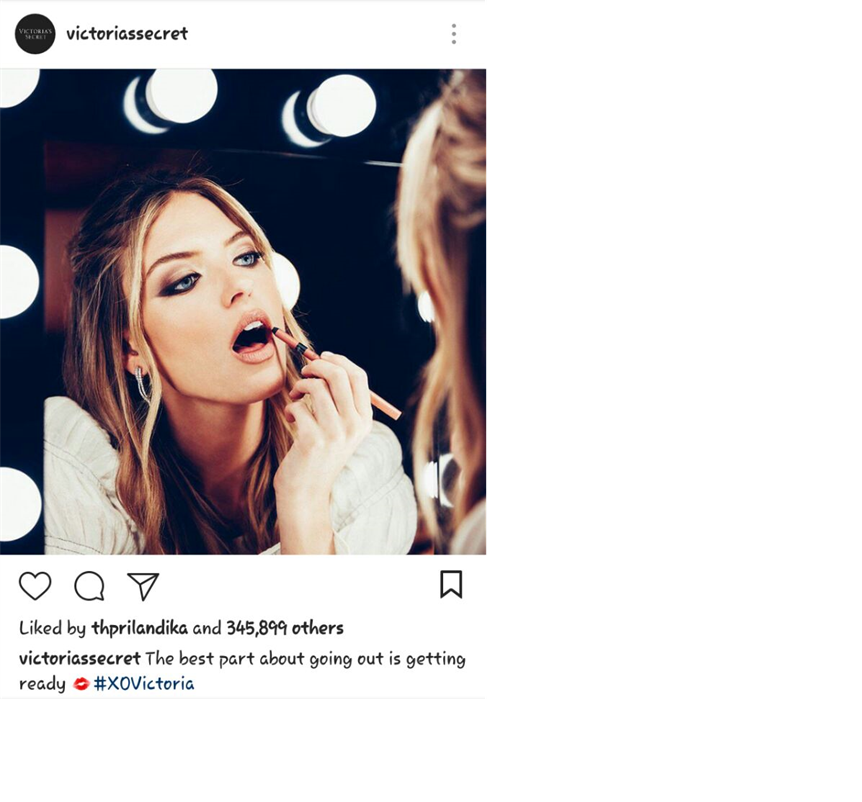 The picture above was posted on Instagram by a famous brand and they got 345,899 likes and the average likes they got based on their daily update is around 120,000 likes and more. Not to mention the comments made by their followers can reach more than 600 comments each post in average. This certainly means that they are more engaging and interactive to the users. However, as for Facebook:
In terms of engagement and interaction, Facebook obviously lacks any of it. Not only does it appear that no one comments on their posts, they also only get below 60 likes, even though their Facebook page has reached more than 29 million of people.
Distributing information
Facebook has more advantages when it comes to distributing information. Why? That's because when you share, say, articles, of course you would put a link in your post, right? When you share it on Facebook, you can put as many links as possible. On Instagram, on the other hand, you can't put links in your posts and you can only put one link in your bio, which is limited since you have to change the link again and again.
Trends
When it comes to trends, Instagram is certainly ahead of Facebook, since the majority of Instagram users are young audience. On the other hand, older people tend to have a Facebook account. Therefore, when new trends are in, Instagram is the first one that's "in it" already.
So, which one?
This is a tough question, actually, because in order for you to determine which one is the best if used for business, it all depends on your business. If your business is more into targeting younger audience, you should go for Instagram. If your business is more for older audience, then you can go for Facebook. Also, you can determine whether you use Facebook or Instagram based on your type of business, because it would be different managing social media account for B2B and B2C companies. That being said, deciding which one should be based on thorough research and team's discussion. Therefore, make sure you gather your team to do some research, to discuss and decide!